by Jackie Piro Huyck, SI Vista NCI

VISTA, California, March 22, 2023—Soroptimist International of Vista and North County Inland (SI Vista NCI) announces with immense pride this year's winners of the Live Your Dream Education and Training Awards. The club distributed awards totaling $18,100 to six women during the club's Awards Brunch held March 18 at Palomar Estates East clubhouse in San Marcos. In the 50 years since the award's inception in 1973, the Vista-based club has distributed nearly $175,000 in cash awards for women's education to women locally, most of whom have overcome enormous obstacles including domestic violence, teen pregnancy, substance abuse and sex trafficking. Recipients may use the cash award to offset any costs associated with their efforts to attain higher education, such as books, childcare, tuition and transportation.
Club president Jennifer Luz-Olson recognized local dignitaries present at the event including Vista Mayor John Franklin, Vista Councilmember Katie Melendez and San Diego Deputy District Attorney Carolyn Matzger from the San Diego DA's sex crimes and human trafficking division. Each awardee received a Letter of Appreciation from the City of Vista.
"In addition to celebrating these six amazing women, we are also celebrating our club's 70th year of service in the community, because our club was chartered in March 1953," said longtime member Thoralinda Soyland, pointing to a display of decades' worth of history-laden photo albums and news clippings on display at the event. Soyland has been a Soroptimist for 44 years and grew up in Vista.
Each of the awardees was invited to speak about their struggles and dreams for a better life.
Recipient of the first place Live Your Dream Award was Kathryn Seman of Valley Center. Her dream is to attend USC to obtain a degree in Urban Planning and Development. A single mom of three who has experienced domestic violence, she said "Considering I only completed one year of high school and obtained a GED at 16, I never thought I would ever go back to school, and here I am at 32, proof that it's never too late to reinvent yourself… this award means everything to me and my children." Currently Kathryn is holding down two jobs to support her family while attending Palomar College.
Amanda Rodriguez received a special award reserved by the club for a survivor of human trafficking. Single mother to a 10-year-old, Amanda is pursuing a BA at Pt. Loma Nazarene in International Development with a minor in Marketing. "During the pandemic I co-founded a nonprofit tech startup, Free Brands, with a mission to empower survivors of human trafficking to become thriving entrepreneurs," she said. Her dream is to live in a world where survivors are no longer just surviving, but "thriving by pursuing their purpose, and by extension raising children free from bondage, who are empowered to dream audaciously, knowing they are supported," she wrote.
Jane Ogwuegbu is single mom of a 1-year-old son. Jane currently holds an Associate's Degree in Nursing with a dream of becoming a Nurse Anesthetist. "As a victim of domestic violence, living in a shelter since last year, it's even more challenging to meet our basic needs…and realistically impossible for me to fund my career…" she wrote. Despite these challenges and lack of family support, Jane believes her current situation is temporary and she is determined to remain positive and achieve her career goal.
Aline Ramirez is a single mom going through a difficult divorce. The sole support of her 3-year-old daughter, she works at a domestic violence shelter while attending Cal State San Marcos. Aline's passion is to help women and their families in the community. She is working towards a BA in Sociology and her dream is to earn a Master's Degree in Social Work and work as a case manager for victims of domestic violence. "Winning this award will help me continue school and not stress each semester about paying for my classes," she said.
Maria Solano (not her real name) asked that her name and photo be withheld for safety reasons. Single mom of 3 children, she is a student at MiraCosta College and is holding down a part-time job while studying social work and human services. Her goals are to complete her AA and ultimately earn a Bachelor's degree. Her dream is to find a field of work that would match her desire to help families and children, especially those with disabilities. Her award will help her stay the course.
Monica Limon's award will help her achieve her dream of becoming a Preschool Director and helping children and parents, especially at-risk children and children with disabilities. Monica is a survivor of domestic violence and is taking care of her mother, husband and child while working full time as program manager for a daycare center. She is attending Palomar College and wants to obtain a BA in Early Childhood Education.
Attendees of the awards ceremony enjoyed a delicious brunch catered by the Broken Yolk in San Marcos. The club thanked Program Sponsors Allison Temples, David Asbury, Diane and Steve Scheerhorn, Harcourt Hervey, Karen Kahrhoff, Lynn Flanagan, Marianne Grisez, Nancy DePaola-Brooks, Paula Nix and Runa Gunnars, and Brunch Sponsors Assly Sayyar, the Scheerhorns, Jody Haddon, Judy Gregorie, Paige McWey Acers and Sherry Luz.
SI Vista NCI fundraises throughout the year to support the awards program and other projects that lead to women's economic empowerment. "It is thanks to our generous donors and those attending our fundraisers that we are able to give out these awards each year," said Live Your Dream chair Sherry Luz.
"The special award for a survivor of sex trafficking was thanks to funds we raised from our annual '30 Miles in 30 Days' Walkathon," added Kaye Van Nevel, who spearheads the club's human trafficking awareness efforts.
Upcoming fundraisers include a "Favorite Things with a Twist" event at the Vista Senior Center on April 8, a "Lunch and Bunco" fundraiser at Rhythm Church in Oceanside on April 15, and an "English Garden Tea" in San Marcos on May 20. To learn more about the club and its events, visit soroptimistvista.org.
The Vista-based club is part of Soroptimist International, a worldwide organization. The Soroptimist Live Your Dream Award program provides over $2.8 million in cash grants to head-of-household women in need each year. Since the program's inception 50 years ago, more than $35 million has helped tens of thousands of women achieve their dreams of a better life for themselves and their families—leading to stronger communities, nations, and the world.
For more information visit soroptimistvista.org or email soroptimistinternationalvista@gmail.com.
Above L-R: First place awardee Kathryn Seman, Soroptimist Sherry Luz, and Vista Councilmember Katie Melendez at Awards Brunch in San Marcos.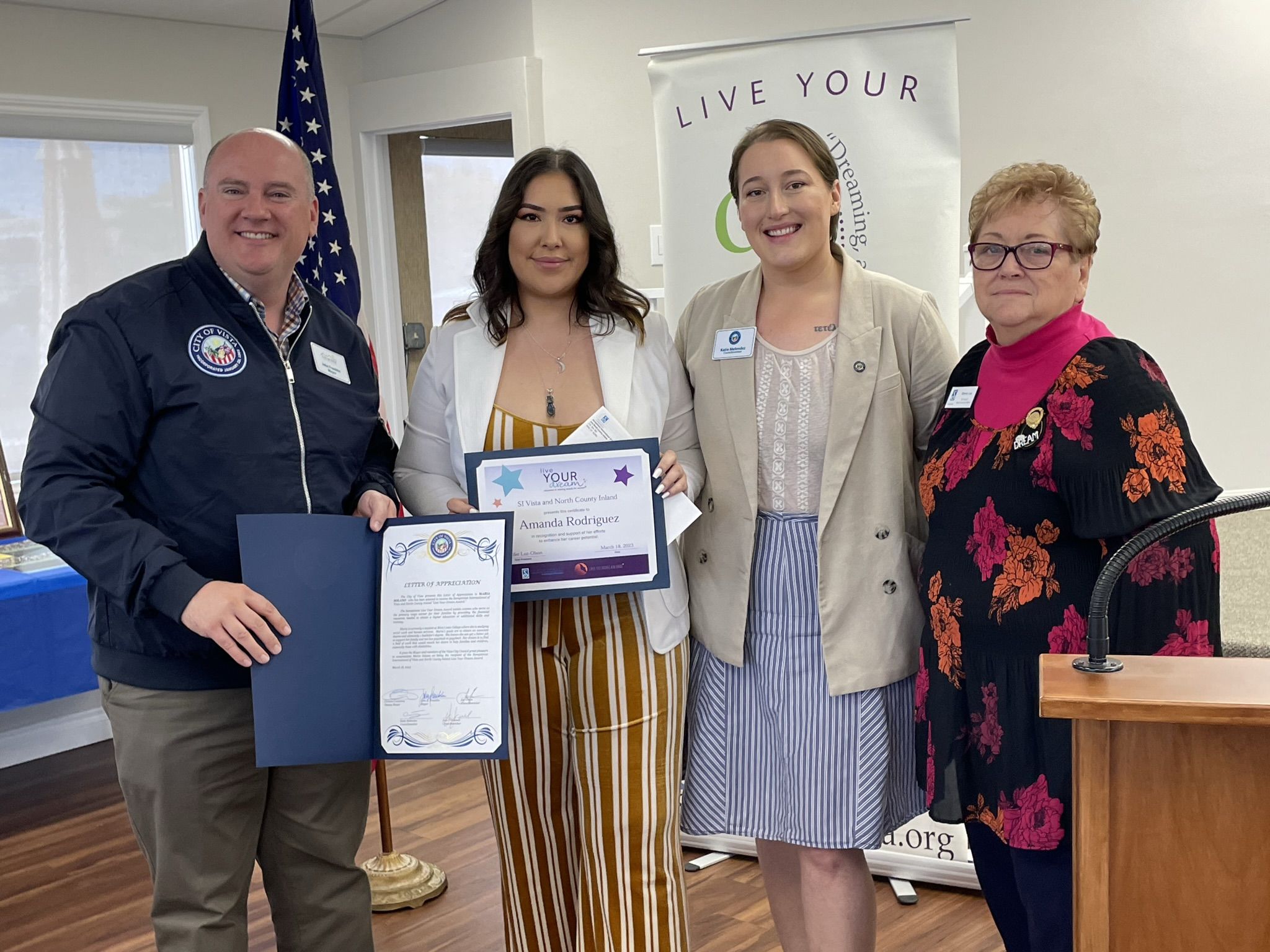 Above L-R: Vista Mayor John Franklin, Second place awardee Amanda Rodriguez, Vista Councilmember Katie Melendez, and Soroptimist Sherry Luz.
Program Sponsors
Allison Temples
David Asbury
Diane and Steve Scheerhorn
Harcourt Hervey
Karen Kahrhoff
Lynn Flanagan
Marianne Grisez
Nancy DePaola-Brooks
Paula Nix
Runa Gunnars
Brunch Sponsors
Assly Sayyar,
Diane and Steve Scheerhorn
Jody Haddon
Judy Gregorie
Paige McWey Acers
Sherry Luz